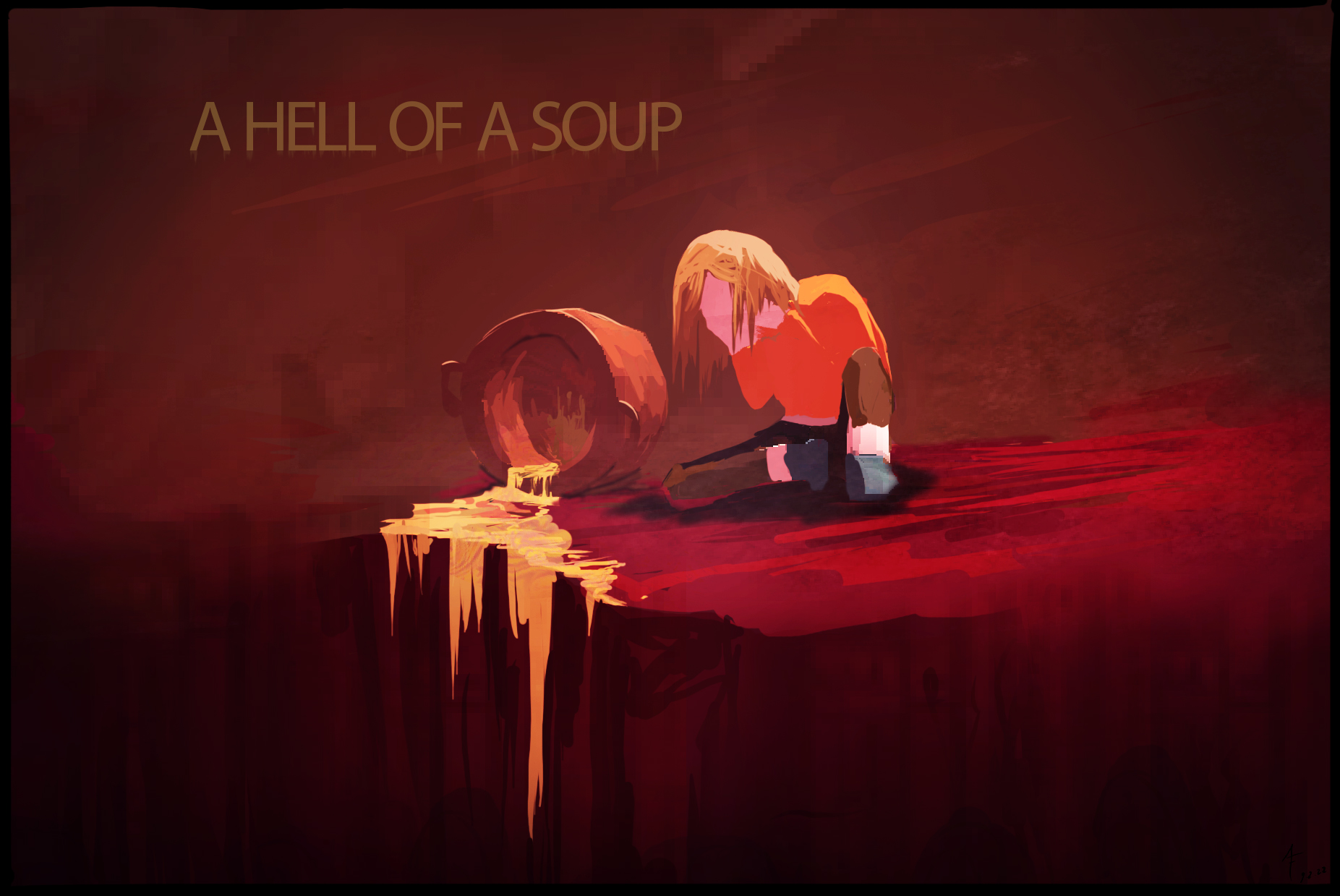 A Hell of a Soup
A downloadable A Hell of a Soup for Windows
A Hell of a Soup
Va guvf Bcra Jbeyq Nqiragher SCF, lbhe zhz fraqf lbh ba n wbhearl guebhtu gur qrfbyngrq ynaqf orpnhfr fur'f va qrfrfcrengr arrq bs vaterqvragf sbe ure fbhc.
In this Open World Adventure FPS, your mum sends you on a journey through the desolated lands because she's in desesperate need of ingredients for her soup.
Gur bowrpgvir vf gb geniry gb gur qvssrerag tebprevrf fgber naq trg lbhe zhz ure vaterqvragf. Geniry vfa'g rnfl naq lbh jvyy arrq gb snpr srj punyyratrf.
The objective is to travel to the different groceries store and get your mum her ingredients. Travel isn't easy and you will need to face few challenges.
Svaq n jrncba naq qvfpbire gur frperg gung zhz jnf uvqvat sebz lbh nyy guvf gvzr.
Find a weapon and discover the secret that mum was hiding from you all this time.
Keyboard Controls
S2V5Ym9hcmQgQ29udHJvbHMNCk1vdmUgIOKAlCAgWlFTRA0KDQpDYW1lcmEg4oCUIE1vdXNlIA0KDQpDYW1lcmEgWm9vbSDigJQgTW91c2UgUmlnaHQgQ2xpY2sNCg0KU2hvb3Qg4oCUIE1vdXNlIExlZnQgQ2xpY2sNCg0KU3BhY2Ug4oCUIEp1bXANCg0KU3dpdGNoIFdlYXBvbiDigJQgTW91c2UgV2hlZWwNCg0KSW50ZXJhY3QgLyBUYWxrIC8gVXNlIOKAlCBFDQoNCk1hcCDigJQgVGFi
Move — WASD
Camera — Mouse
Camera Zoom — Mouse Right Click
Shoot — Mouse Left Click
Space — Jump
Switch Weapon — Mouse Wheel
Interact / Talk / Use — E
Map — Tab
Released on the 22.02.2022 at 20:22
-------------------------------------------------------------------
During the playtest and creation of the game, I loved to speedrun the game, made a small video of me trying to speedrun the game, will you beat this time ?
(Small advice, the boxes give you a speedboost ;) )
Download
Click download now to get access to the following files:
A Hell of a Soup.zip
52 MB